If you have any information about these crimes or any person(s) involved, you are urged to call Crime Stoppers or submit a Web Tip.
You do not have to give your name.
CRIME STOPPERS

will pay a reward of up to $1000 and you can remain anonymous.
Ceres Home Depot Grand Theft
May 01, 2022
Ceres PD is looking to identify this couple who worked together in this Grand Theft. It occurred at the Home Depot last month.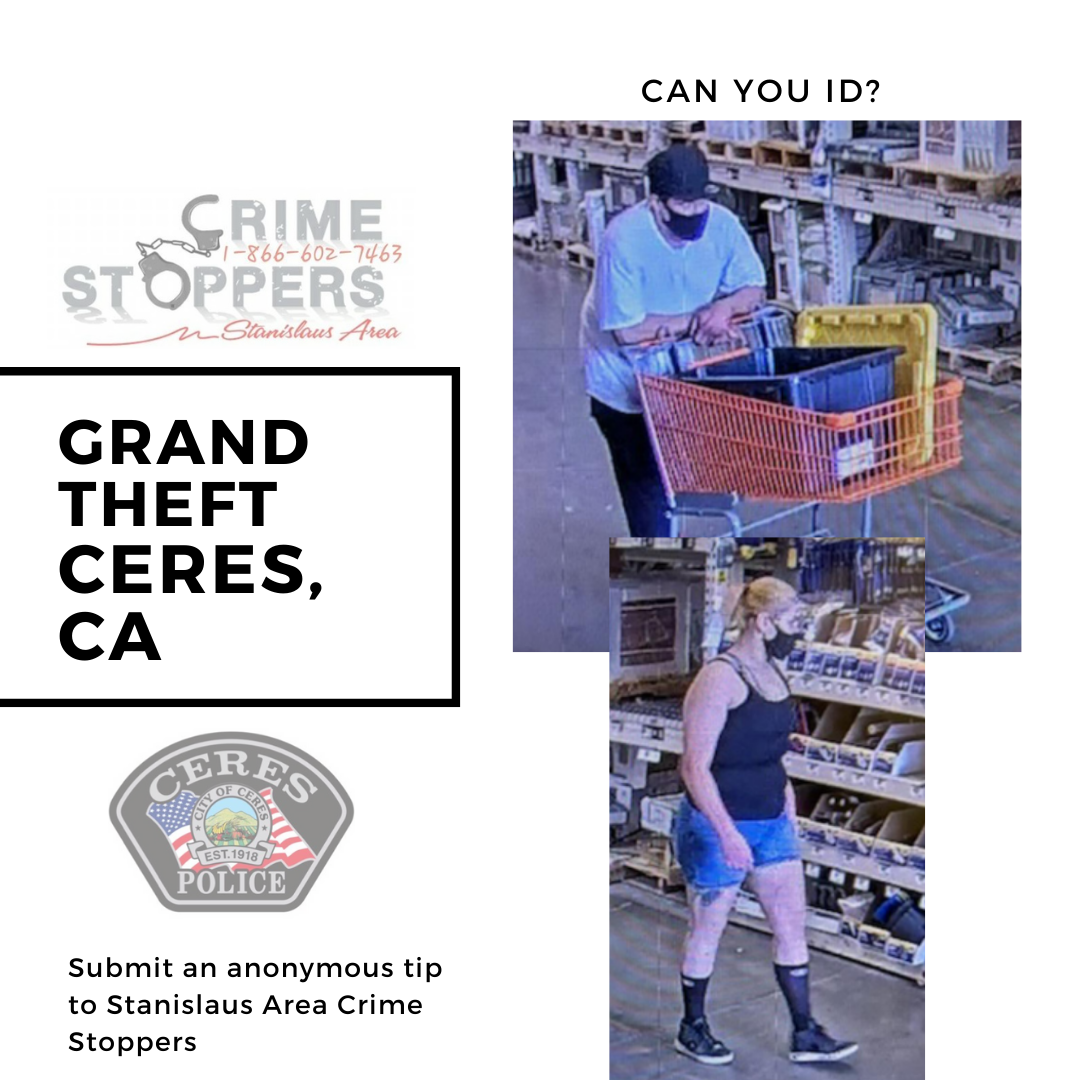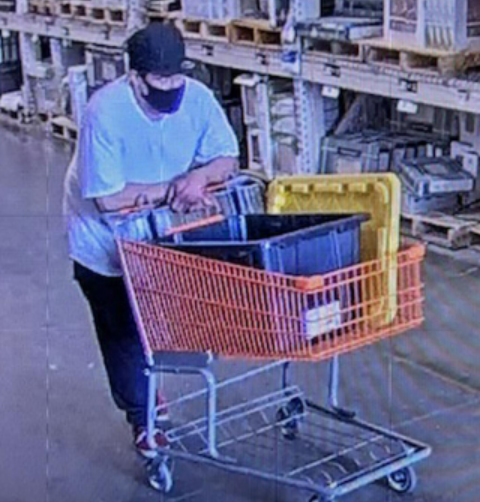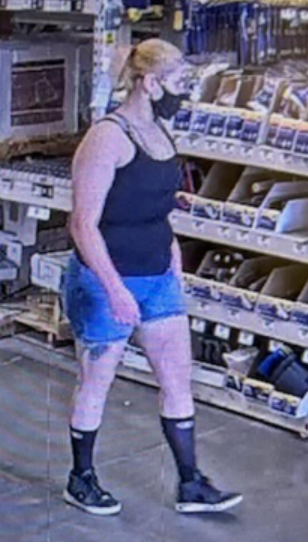 ---
Staley's Aggravated Assault
May 01, 2022
The Turlock Police Department is requesting the public's help to identify THREE persons of interest that were involved in an aggravated assault that occurred around midnight on 5/1/22 at Staley's Club in Turlock.
Person
#1
is described as a male adult 5'8" - 5'10" weighing 190-230lbs. He had short hair on the sides and possible pony tail or long hair on the back of his head. He was wearing a black California hat, black California hat, and black California pants.
Person
#2
is described as a male adult 5'8" - 5'10" weighing 160-180lbs. He had a long beard, wore glasses, a gray t-shirt, gray or brown shorts, a Pittsburgh Pirates hat and black Vans shoes. He appeared to have tattoos on his left arm.
Person
#3
is described as a male adult 5'6" - 5'10" weighing 160-180lbs. He was bald, wore a white baseball style button up shirt, blue or black shorts, and Converse shoes. He appeared to have several tattoos on both of his legs.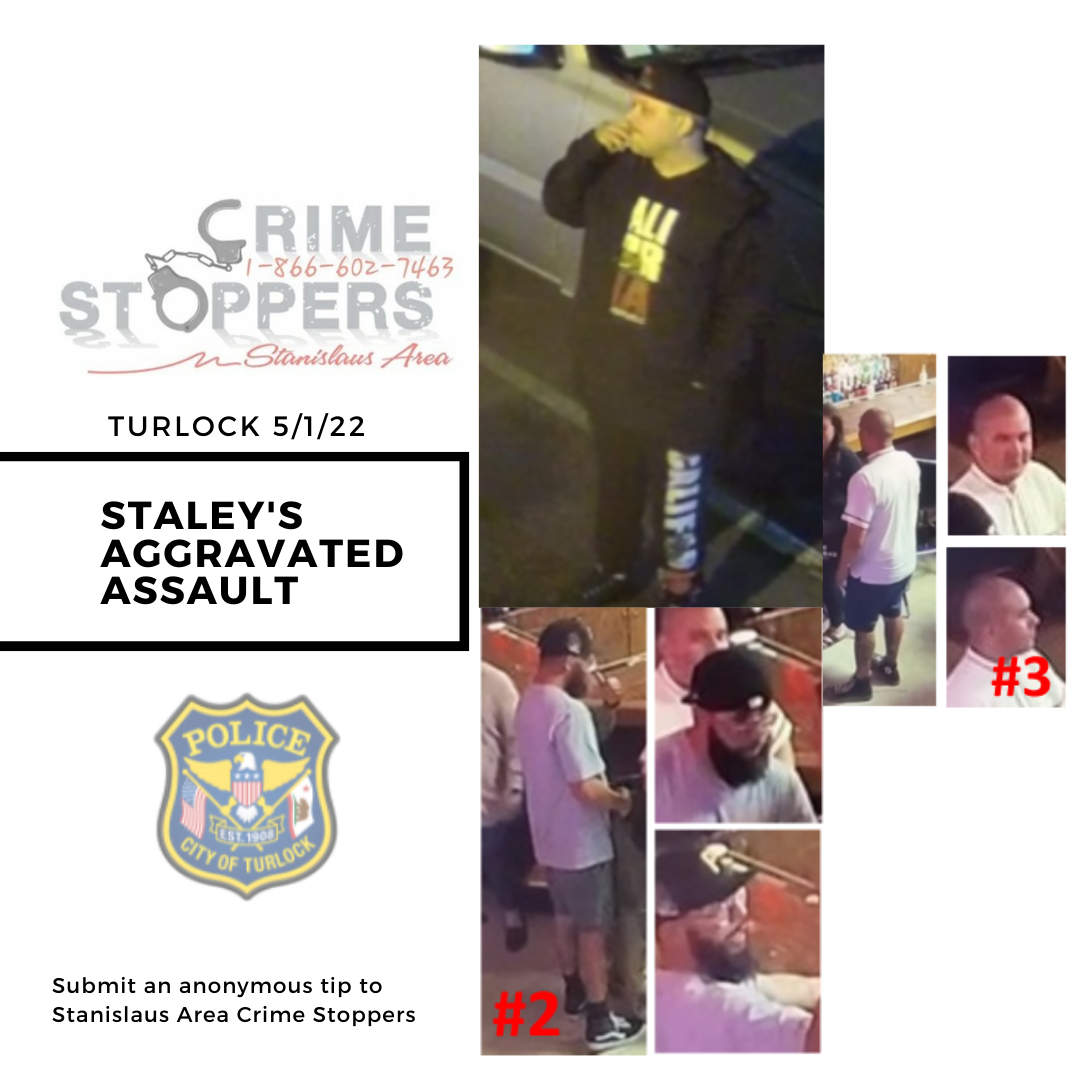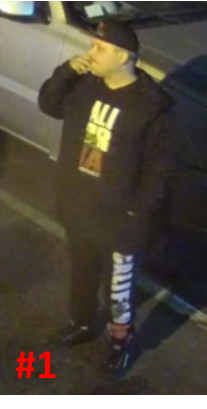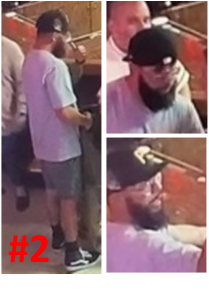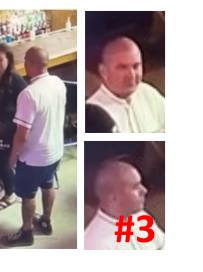 ---
Turlock Vehicle Burg and Credit Card Fraud
April 29, 2022
On 4/29/2022 at around 6:30PM a Turlock resident's vehicle was burglarized on the 2800 block of Alta Vista St in Turlock. Unknown suspects removed several high priced items from the vehicle such as a phone, purse, wallet, boots, shoes, cash and credit cards. That same day, several of the victim's cards were used at a Lowe's and Costco in other cities. The three suspects are pictured while using one of the victim's credit card at a Lowe's in Stockton, CA around 9:00PM. They all left the business together in what looked like a gold or silver, 2011 or newer, Dodge Grand Caravan.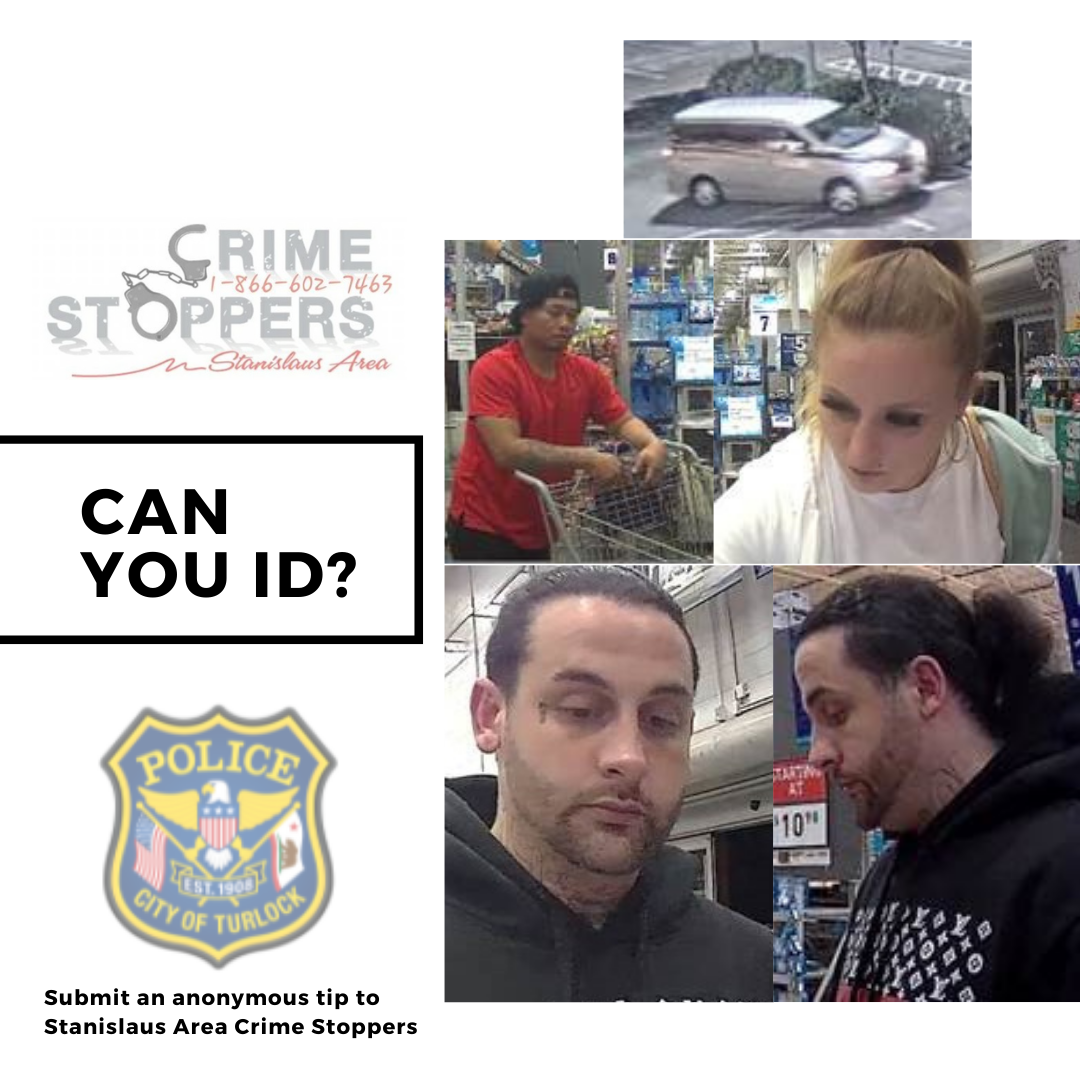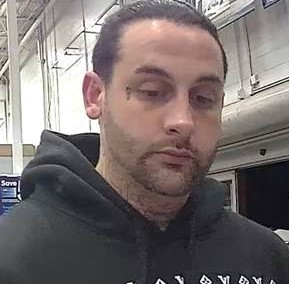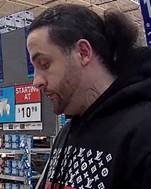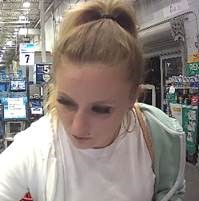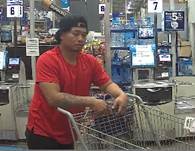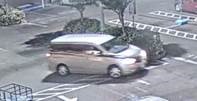 ---
North Modesto Attempted Residential Burglary
April 25, 2022
Modesto Property Crimes Detectives are asking the public if they can help identify the pictured subject. He is the suspect in an attempted residential burglary that occured on April 7th in north Modesto.
If you wish to remain anonymous, please contact crime stoppers at 1-866-602-7463, visit www.stancrimetips.org, or download the P3 App. Remember if you submit a tip to save tip ID and password! Cash rewards are available!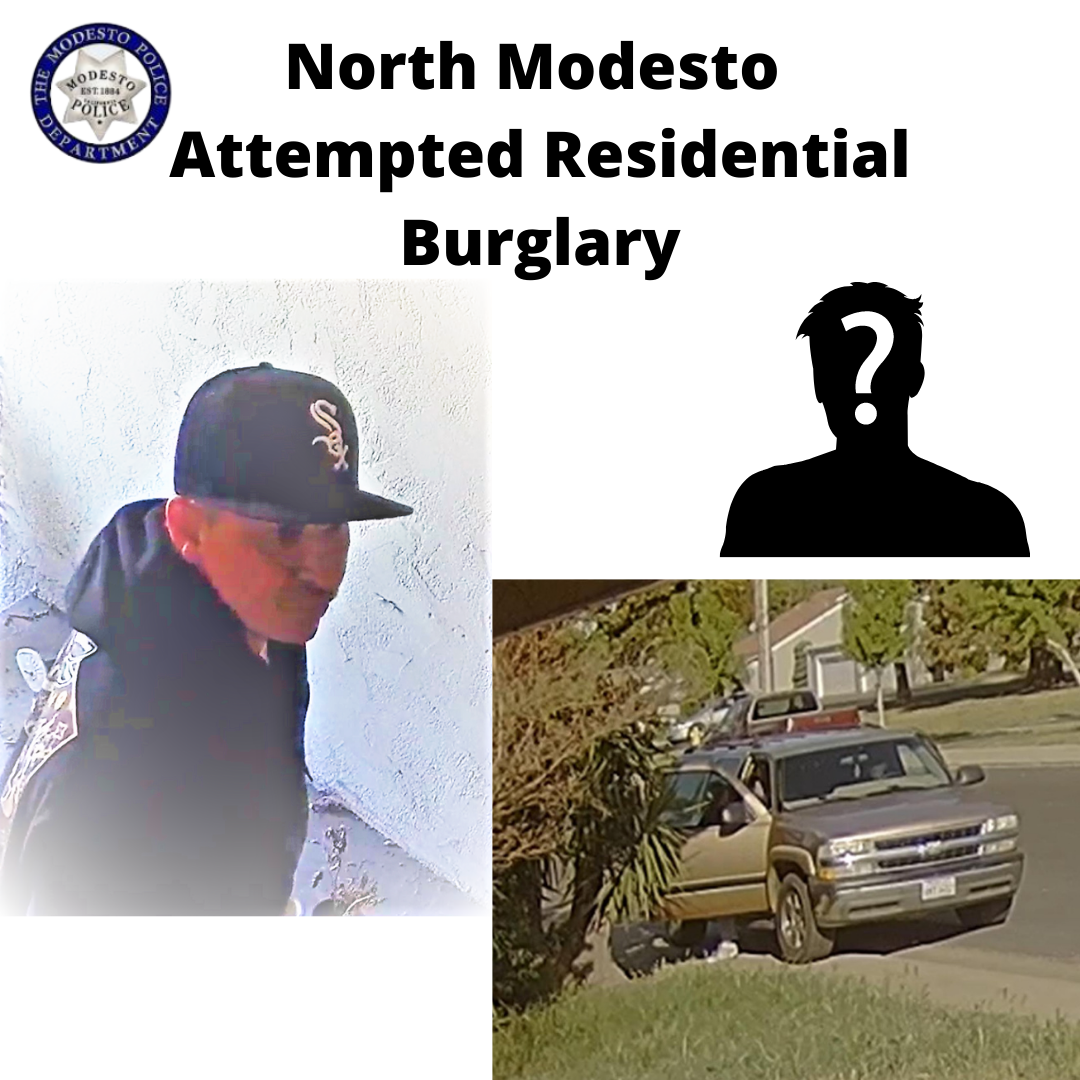 ---
Turlock Safeway Credit Card Theft
April 19, 2022
The Turlock Police Department needs your help. On 4/19/2022 a Turlock resident reported that she lost her wallet the day before on 4/18/2022 and fraudulent transactions had already been made at Safeway (3051 Countryside Dr). The pictured suspect entered Safeway around 0800 and made one purchase of about $5.00 with the victim's credit card. Ten minutes later, the same suspect returned and attempted a $200.00 transaction using the same card.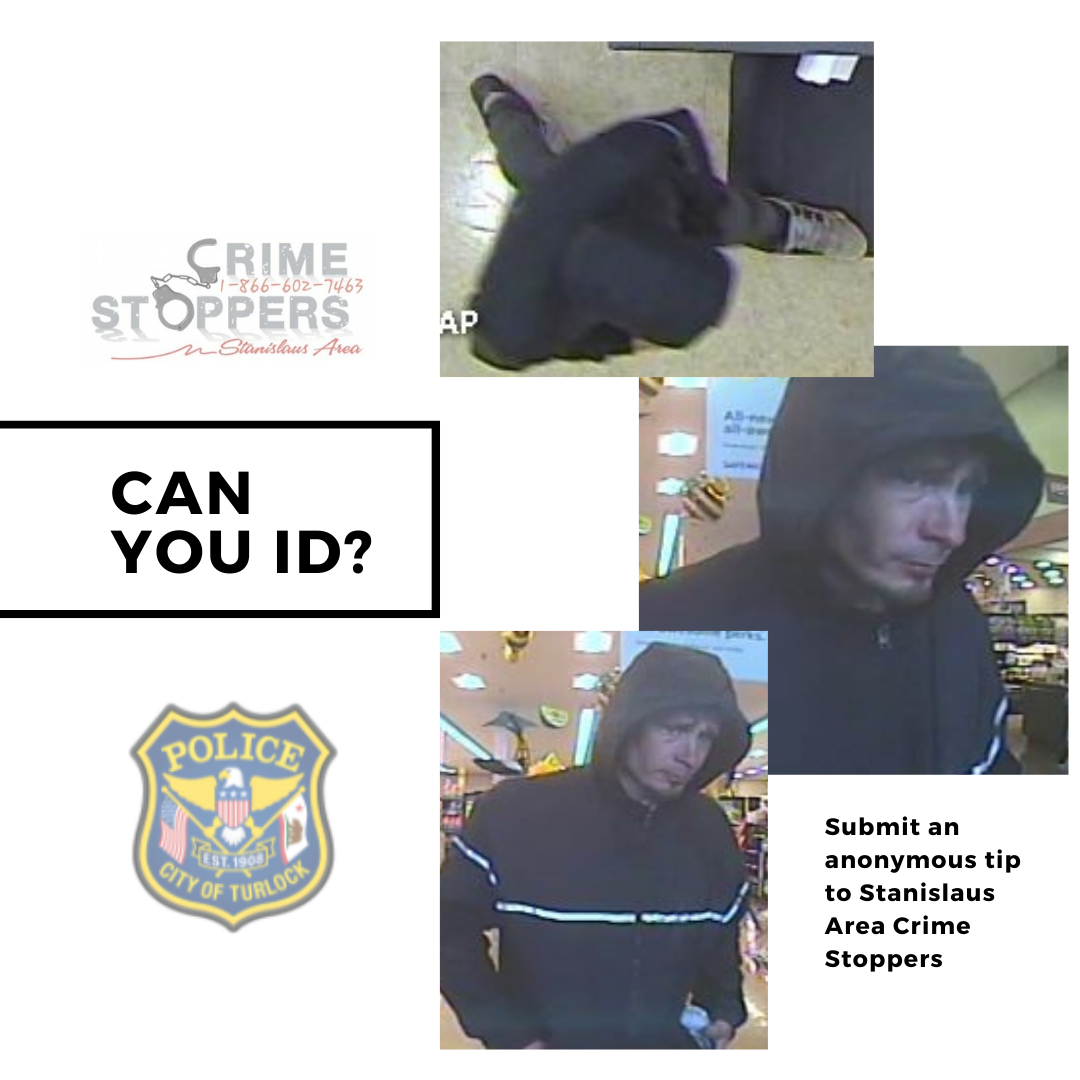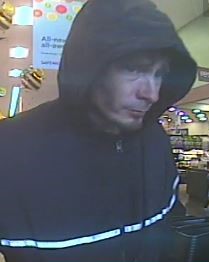 ---
Turlock Boot Barn Grand Theft
April 11, 2022
The Turlock Police Department is requesting the public's help to identify two suspects who stole over $2,000.00 worth of boots from the Boot Barn on Countryside Dr in Turlock on 4/11/2022 at approximately 12:30PM. One suspect is described as a heavy set Hispanic male wearing a black sweater with black pants and Nike shoes. The second male was described as a light skinned Hispanic male wearing blue jeans and a black t-shirt. The suspects fled the area in a red Chevrolet Silverado.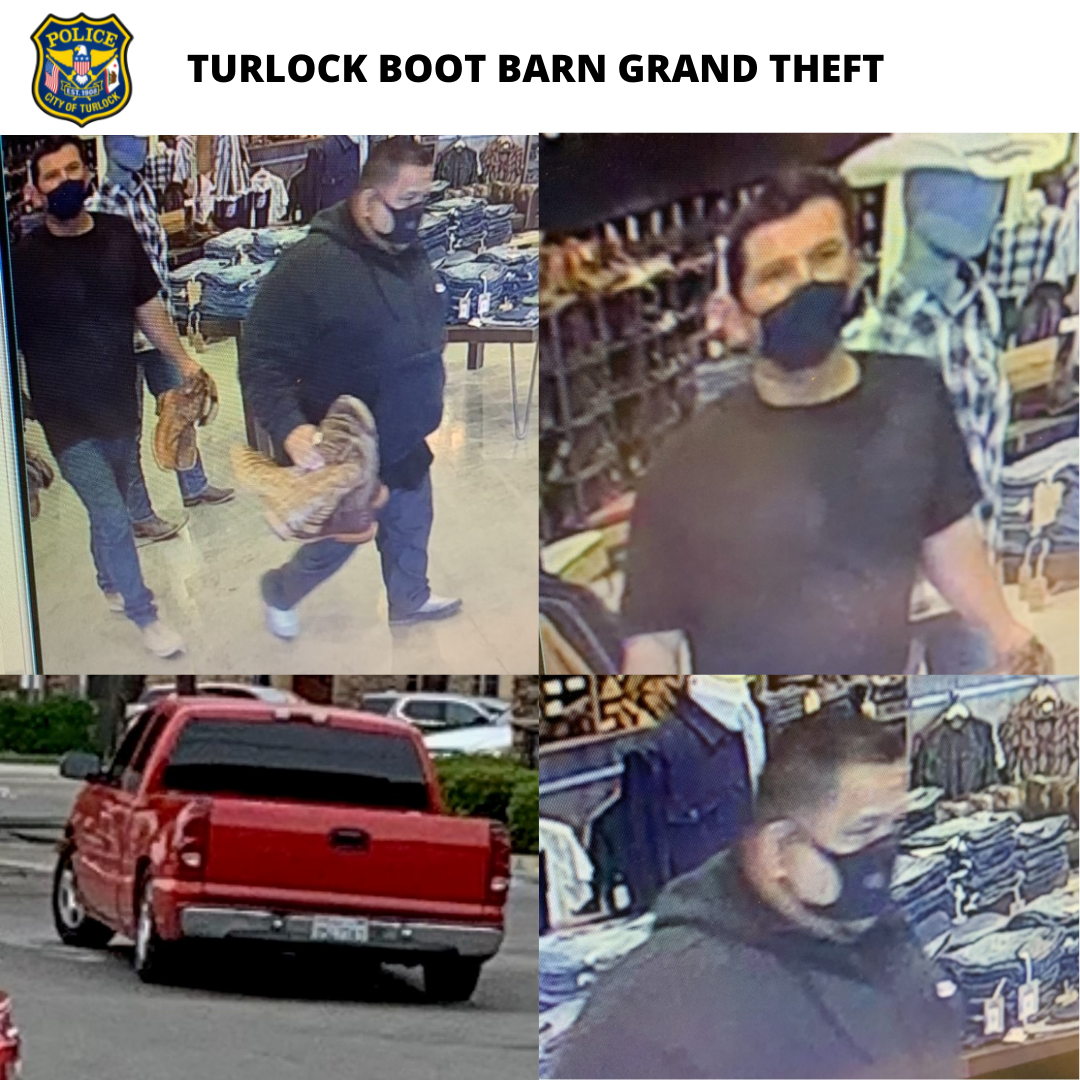 ---
Modesto AM/PM Arco Robbery
April 09, 2022
Detectives with Modesto Police Department's Violent Crimes Unit are looking for the suspect in a robbery that occurred on March 9, 2022 at a local AM/PM Arco. The suspect used a gun during the robbery and demanded cash and cigarettes. If you have information regarding this robbery, contact Detective Booza at 209-484-6113 or by email at Boozag@modestopd.com.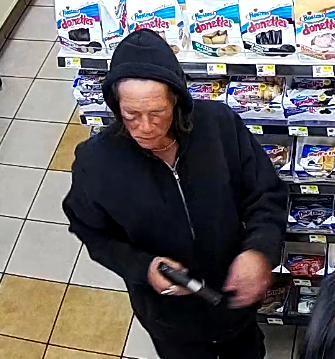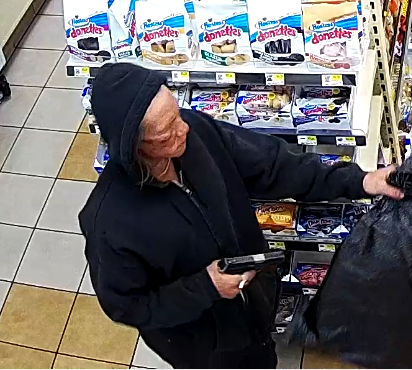 ---
Residential Burglaries
April 02, 2022
The Turlock Police Department is requesting the public's help to identify a suspect in recent residential burglaries. Both incidents occurred on Zinfandel Ln in Turlock during the early morning hours of Saturday, April 2, 2022. The depicted suspect forced entry into the homes while the residents were not home and stole property worth several thousands of dollars.
It is believed that the suspect may have been casing the area prior to the incident. The suspect appears to be an adult male driving an Infiniti sedan, black in color, with tinted windows and aftermarket rims. Residents are encouraged to check their security cameras for footage they may have of the suspect leading up to the incident and the morning of April 2, 2022.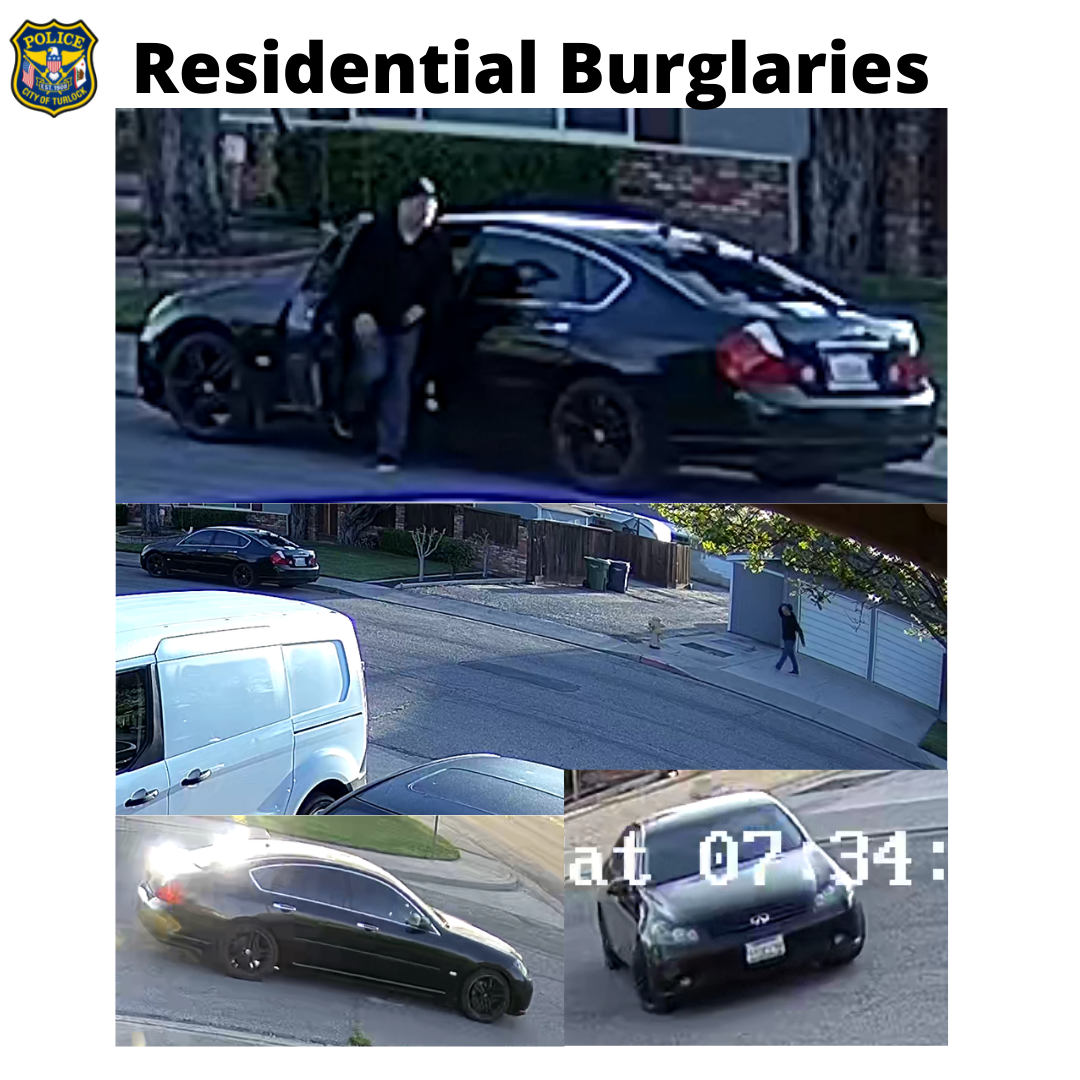 ---
Subway McHenry Robbery
March 31, 2022
Modesto Police Detectives are looking to identify the pictured suspect. He is the suspect in a Subway robbery on Mchenry Ave on March 31st. If you have information on who this may be, you can contact Detective Bolinger at BolingerR@Modestopd.com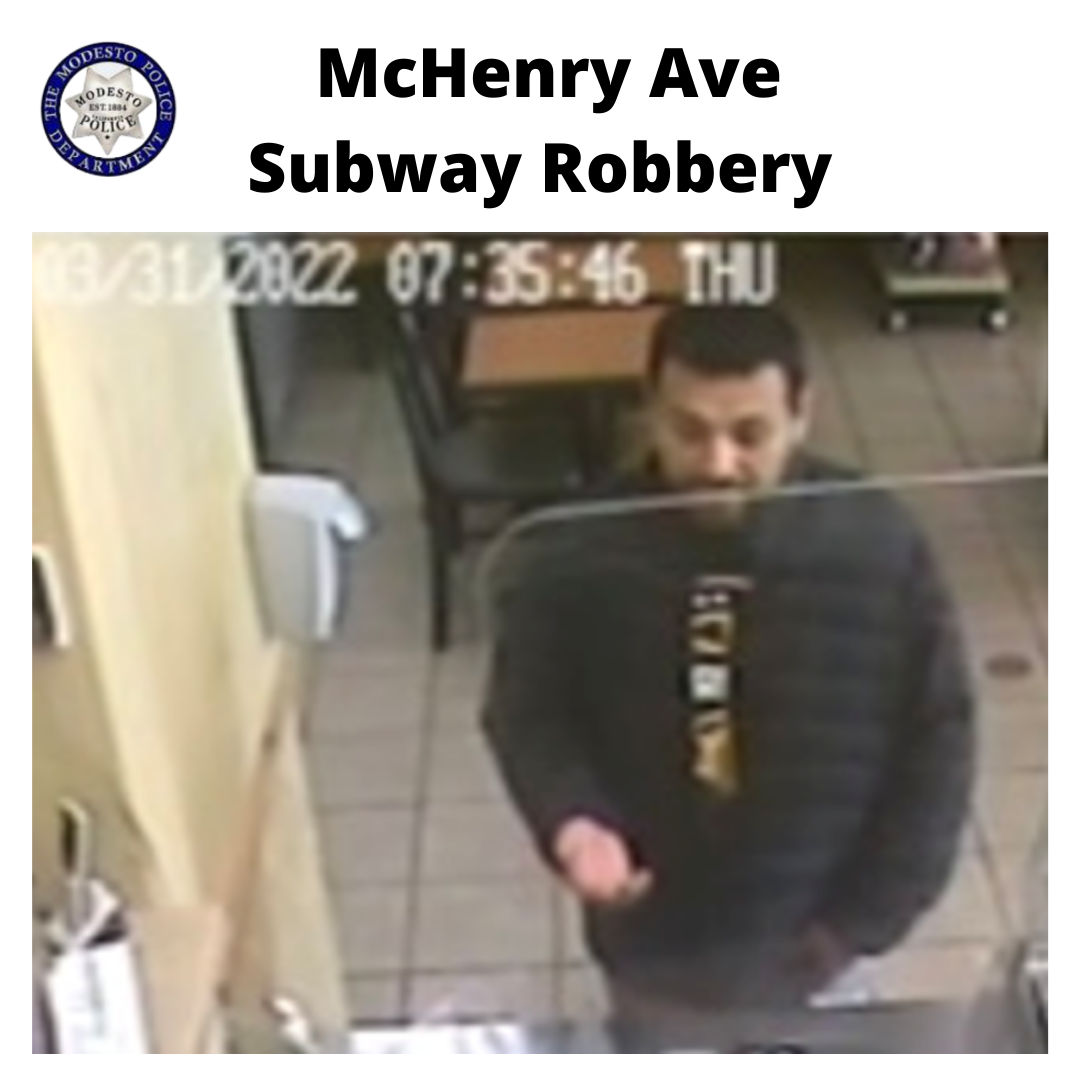 ---
Wayside Market Assault & Theft
March 26, 2022
The Turlock Police Department is requesting the public's help to identify male juveniles or young adults that stole bottles of alcohol and assaulted an employee in the process at Wayside Market in Turlock on March 26, 2022 around 9:00PM.
One suspect wore what appeared to be a light gray hooded Polo sweater, white belt, light colored jeans and red shoes. The other suspect wore a black hooded sweatshirt, jeans and gray Nike shoes.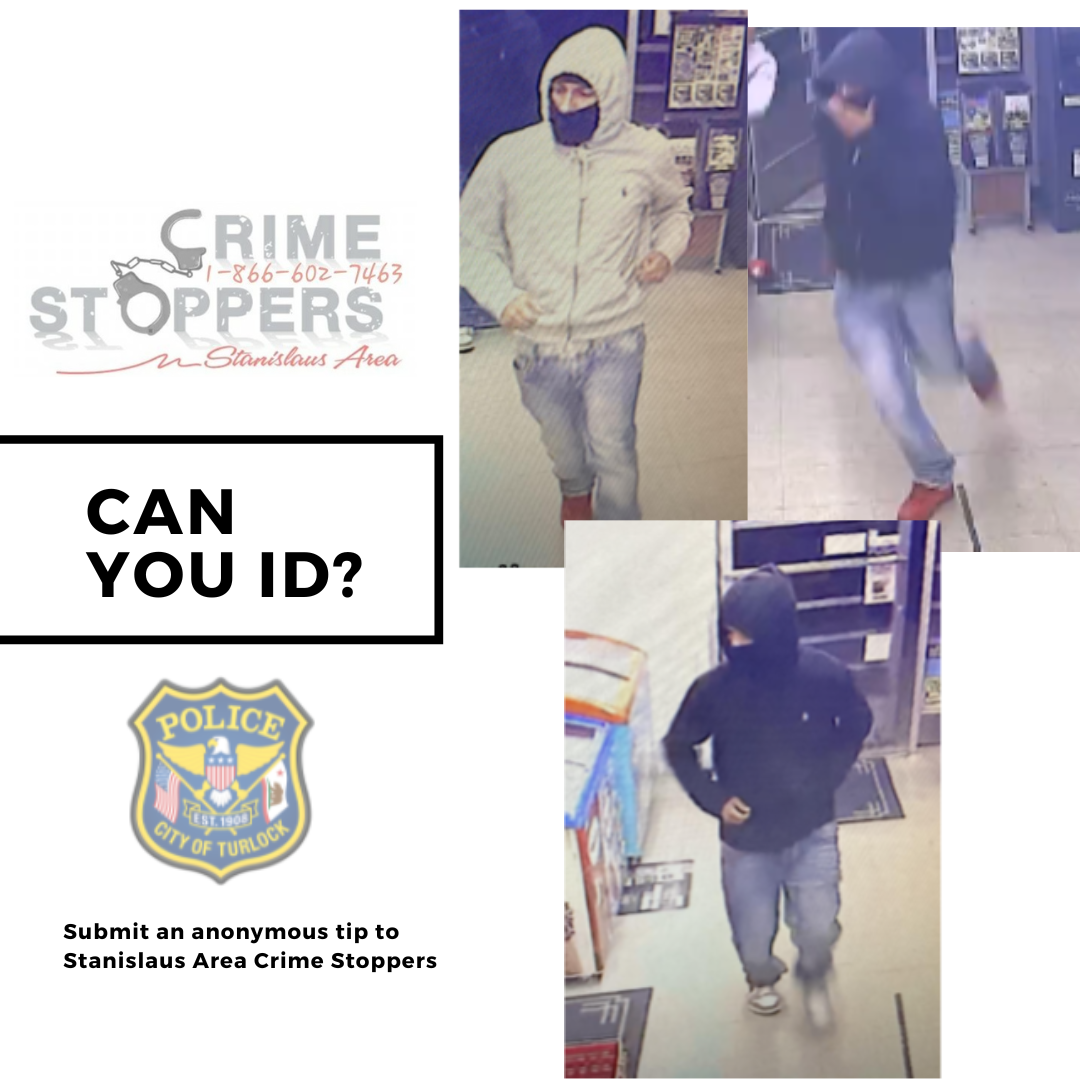 ---